Description
Proxxon Model Building & Engraving Set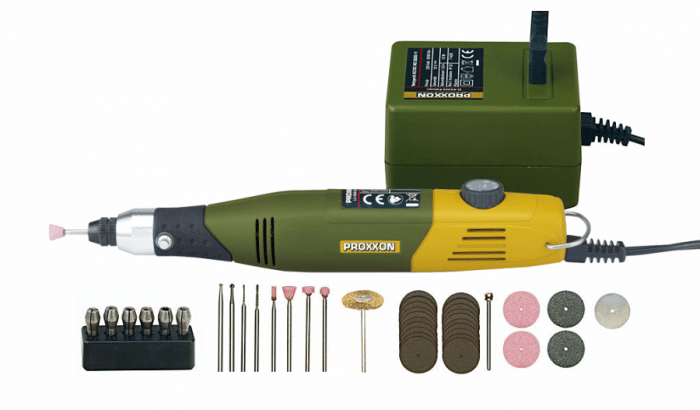 The Proxxon Model Building and Engraving Set includes the with 28510 Proxxon Rotary Tool 50/E, product No: 28510, Proxxon's 230V power transformer, product No: 28505, and 34 industrial dental quality bits and cutters all packed in an attractive plastic case.
The Proxxon MICROMOT 60/E is an infinitely variable electronic speed controlled rotary tool capable of delivery high engine power even at lower speeds.
For drilling, milling, grinding, polishing, brushing, cutting and engraving.
For working steel, precious metals, glass, ceramics, plastics and precious stones.
Low safety voltage, suitable for wet grinding and cutting.
Ideal for electronic hobbyists, model-builders, mechanics, jewellers, opticians, artists, chiropodists, dental technicians, tool and casting makers.
Soft rubber grip for comfortable handling.
MICROMOT hardened steel collets have a high, consistent flexibility.
The collets maintain prolonged accuracy after regular use. It is to be noted that these collets should not be compared with unhardened, four-slit brass and aluminum collets. The triple slit collet is substantially more difficult to manufacture than the four-slit type,
offering a significantly better load-bearing surface. This feature is especially important for
cutters with small shaft diameters.
This set includes a high strength plastic case with secure snap latches for easy opening and closing, perfect for keeping the tool and accessories away from dust.
34 Industrial Quality Bits And Cutters 

The Proxxon Model Building And Engraving set includes:
1 Diamond Grinding Bit
1 Fine Miller
0.5 & 1 mm Micro Drill Bits
1 Brass Brush
4 High Grade Grinding bits (cylinder, sphere, disc and cone shaped)
1 Polishing Pad
4 Grinding Wheels
20 Cutting Discs
1 Mandrel